Your life-changing donation
Connecting with supportive faith communities can make a life-changing difference for prison leavers and we're proud to support those connections.
Our work is possible thanks to the generous support from those who kindly contribute towards our work... Our vision is to be able to help all prison leavers with faith to connect with supportive faith communities, wherever they are, whatever they believe.
Could you help us achieve this goal by supporting us today?
How you can help
Our ability to keep on working to grow our directory and help prison leavers with faith to forge positive connections is dependent on securing sufficient funds.
If all of our registered faith communities gave just £50 per year, that would reach a combined total of £9,000 per year!
That could make an incredible difference for our work.
Stuck for ideas? Here are a few of our favourites.
Go the distance*: A monthly mileage challenge to reflect the journey through the prison gates.
Jail Break*: A fun game for all, challenging you to work together to reach a shared fundraising target.
Colourful Connections*: A chance to create something beautiful whilst also achieving a positive impact.
Coffee and Cake morning*: Raise money for a good cause whilst enjoying coffee and rich conversation,
If these all sound more complicated than you'd like, then the tried and tested collection bucket is always a winner, and for a small charity like The Welcome Directory, a little goes a long way.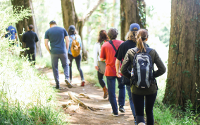 How many miles is it from your door to the nearest prison gates?
For prison leavers, that distance can feel insurmountable. Why not set a goal of walking, running or cycling that distance in a set time, and invite your friends to sponsor your efforts.
Or perhaps you could set a group target, aiming to walk 800 miles in a month for the 800 prison leavers with faith who are unable to join new faith communities upon release every month.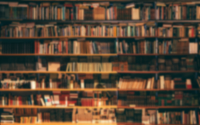 This fun game suits groups of all shapes and sizes.
One bold member of the community volunteers themselves as 'prisoner' and is 'not allowed out' until they can reach a fundraising 'bail' target.
Maybe this means locking Dad in the under-stairs cupboard until his mates pledge £5 each.
Or maybe your faith leader could volunteer to hide away until the community comes together to raise £150. .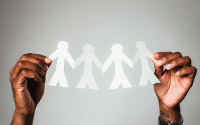 Are you an artistic bunch? Running out of ideas to keep the kids entertained?
Why not run a competition to see who can create the most beautifully decorated paper-doll-chain?
These are lovely symbols of the connections which make our communities such special spaces.
With a modest donation 'entry fee', participants can enjoy getting creative and display their creations in your place of worship or on your social media, competing for the title of Star Artist,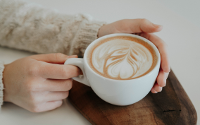 Want to enjoy delicious coffee and snacks whilst having a positive impact?
This tried and tested concept is a win-win, a chance to indulge in tasty treats and rich conversation, whilst contributing to an important cause.
You can offer up some simple home-brewed tea and coffee, and invite your customers to donate what they'd pay in a swish coffee shop. An easy way to make a generous difference whilst enjoyingthe morning caffeine jolt!
We would love to hear about you've been up to, and celebrate your fundraising achievements together. Do get in touch and let us know what you've achieved as a community and inspire others with your story!
If you're looking for inspiration, check out this story of an amazing church that raised £750 in a Prisons Week Service.

sign up for our newsletter
© Copyright The Welcome Directory